Fiona Charles joined the local institute in Cork back in 2014, and has had great success in the industry ever since. Now, Fiona has taken on the new role of Cork President.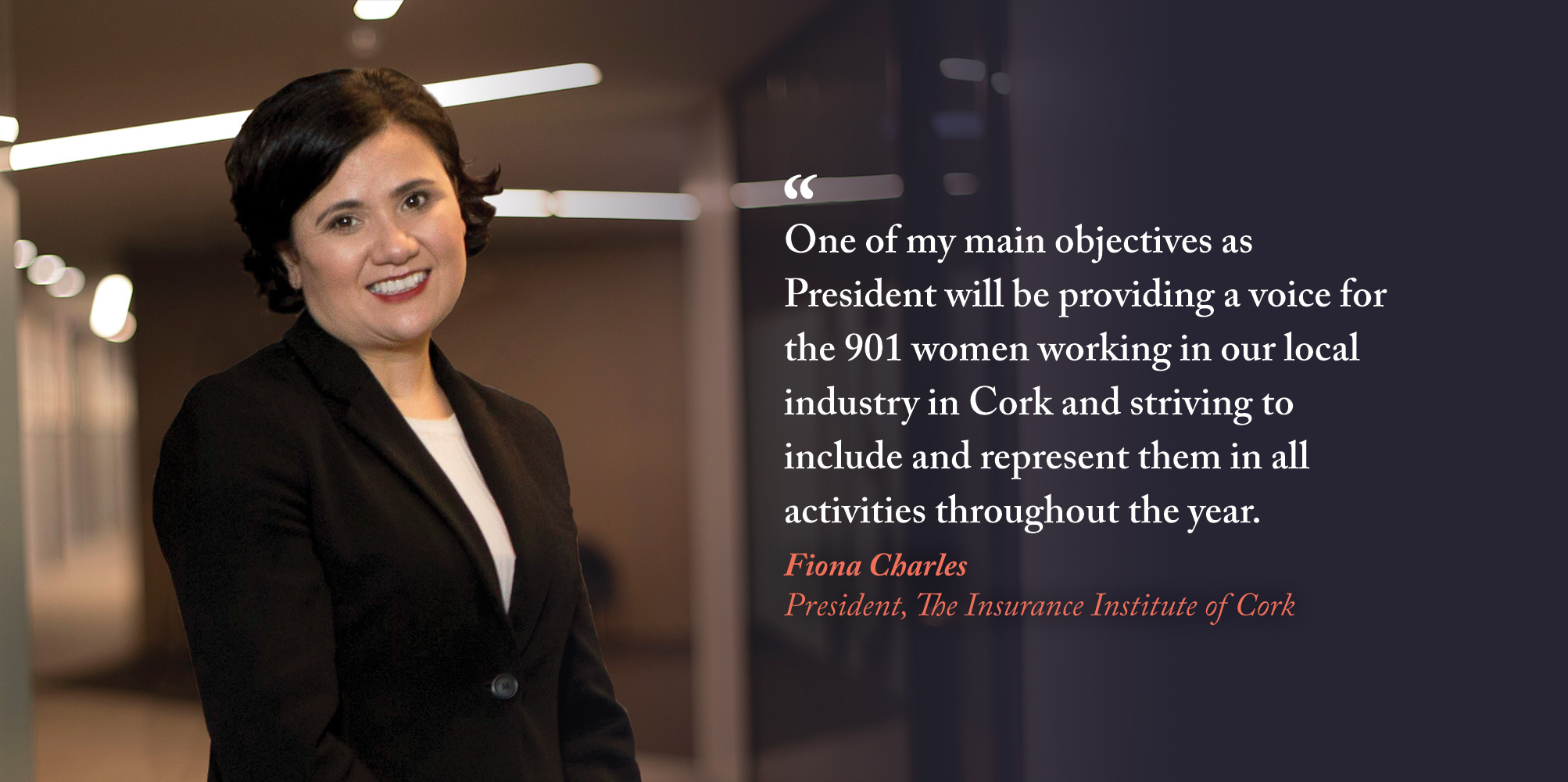 She spoke to us about women in insurance , inclusion (the president's theme for the year) and how being part of the institute has benefited her.
How did you get involved with your local institute?
I was encouraged by a friend and colleague, William Sullivan to join the Institute in 2014. At the time I was working from home, as I was employed with a UK company who didn't have an office in Ireland. Joining The Insurance Institute of Cork was a great opportunity for me as it allowed me the chance to network with peers and meet many other professionals working within the industry.
What are your objectives for the year ahead?
As President, my overall objective will be focused on The Insurance Institute's core mission – to Educate, Inspire and Connect our members – and we will be implementing a range of activities in Cork to support these core ambitions. My other objectives will be focused on the following:
Providing a voice for the 901 women working in our local industry in Cork and striving to include and represent them in all activities throughout the year;
Focusing on the next generation and ensuring that the 50 millennials entering our local industry are actively involved so that have the opportunity to develop their skill-sets in a diverse number of areas;
Involving our apprentices and highlighting their achievements in education to date;
Ensuring our retired colleagues in ARíS (Association for Retired Insurance Staff) remain actively involved in the Institute.
Read our blog on some great women in insurance.
What will the theme for your presidency be?
My fellow Presidents and I have agreed on a theme of 'Inclusion'. We believe this theme encompasses the ethos of the Institute, while also allowing for enough flexibility so that each Local President and Council can focus on a particular area of importance to them within this overarching theme.
As mentioned previously one of my key areas of focus will be on the number of women that work in our local industry and I will ensure that they are adequately represented during my presidential year.
What events have the Cork institute planned for the coming months?
The year ahead will deliver a comprehensive CPD Programme for all our members. We also have a great schedule of networking events planned, with something for everyone. I look forward to our BBQ in August, our Charities Lunch in October and the dinner in January, which was a sold-out event this year. I also plan to include a female focused event that will highlight the number of women working in the industry, the bespoke challenges that they face, and how we as an Institute can best assist them.
Stay up to date with all of our events through our book my ticket page!
Whether you're a school leaver, college graduate or just looking for a career change, you can start your career in insurance with us today! Read more about our qualifications or register your interest in our apprenticeship programme to get started.