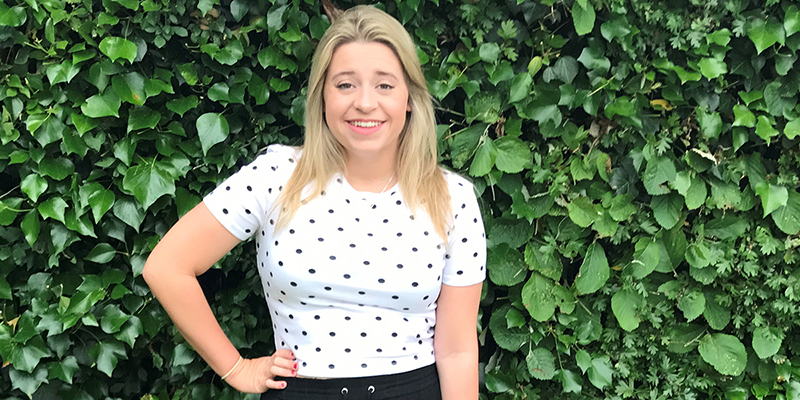 Stephanie Lewis, an Insurance Practitioner Apprentice, talks about why she chose to apply to An Post Insurance, explains the interview process and offers advice for those thinking of applying for programme.
Choosing the company for you
There are a number of factors to consider when choosing the companies you're applying to for the Insurance Practitioner Apprenticeship. Some of the considerations you should take into account are:
Location: Are you willing to move for your apprenticeship?
Company size: Are you better suited to a large or small organisation?
Business area: Does the company cover one area of insurance in particular, or do they provide a range of services?
For me when choosing a company, location wasn't a major factor as I was willing to move anywhere for the chance to do the apprenticeship. Instead, I was hoping to work for a larger company, as I wanted to have the opportunity to try different areas of the business.
When I saw the vacancy arise with An Post Insurance in Athlone, I jumped at the opportunity to work for a well-known company that was also close to home. I knew the brand through An Post and while it is a large company, it is still growing and this was an exciting prospect for me.
Understanding the application process
Each company will have a different application and recruitment process, however when I registered my interest with The Insurance Institute in summer last year, I received information about who was recruiting and how to write a great CV for any organisation.
Registering your interest with The Insurance Institute is the first step on the apprenticeship journey, so do this if you are interested in applying, regardless of the company you wish to apply to. Register your interest on earnandlearn.ie.
CV preparation
When I saw the An Post Insurance job alert come in to my inbox from the Institute, I immediately started preparing my CV. I already had my CV drafted, but I tailored it so I could highlight the exact skills the employer was looking for. I also prepared a cover letter that really highlighted my commitment to 'earning and learning', as well as great customer service.
Within a few weeks of sending in my CV and cover letter, I received a call from the HR Manager at An Post Insurance to set up a time and date for the face-to-face interview.
Preparing for interview
When I was preparing for my interview, I researched a few areas.
The company: I began by looking into An Post Insurance's products and the structure and history of the company. It impressed me to see how the company had evolved since 2009 and I learned that it began as One Direct and then rebranded to An Post Insurance. It's useful to research these things, as a very common interview question is "What do you know about our company?"
Interview questions: I also looked up the typical questions asked in interviews and wrote myself sample answers, whilst keeping true to my personality and myself. It's important that the employer can see who you are, as well as what you know. Have a look at these tips on answering interview questions
On the day
When the day finally came, I was interviewed by Colm our Senior Sales Team Manager and Linda our HR manager. The interview lasted around 1 hour and 20 minutes, which may seem long but it flies once you are in there. I had a lot to say and I love to talk, so it suited me!
The interview was competency-based where I was marked in relation to my performance for each section. The sections were loosely based around:
My background and skills
The insurance industry
Where I see myself and my career in the insurance world
When the interview was finished, I was asked to sit a small exam – thankfully I take being thrown curve balls in my stride! My research on the company and the insurance world was well prepared so I felt confident answering the questions, both in the interview and the exam.
A word of advice
While I had done other interviews for summer jobs and part-time work, they were nothing like my interview for the Insurance Practitioner Apprenticeship, which was far more difficult. While I was used to answering questions about myself, voicing my opinions on insurance-related questions and where I see myself in the industry was completely new to me. The process certainly gave me a good introduction to working in a professional environment.
If you're looking to learn from my experience, I suggest that you are confident talking about:
Ultimately, I was able to convey that I understood that we all need to start at the bottom, but also that I have a lot of ambition. I wanted a company that was still growing and moving with the market so I could have room to work my way up in a company, and that's what I have with my apprenticeship.
My final piece of advice: be yourself, believe in yourself and anything is possible!
Learn more about the apprenticeship and watch Stephanie's video here.