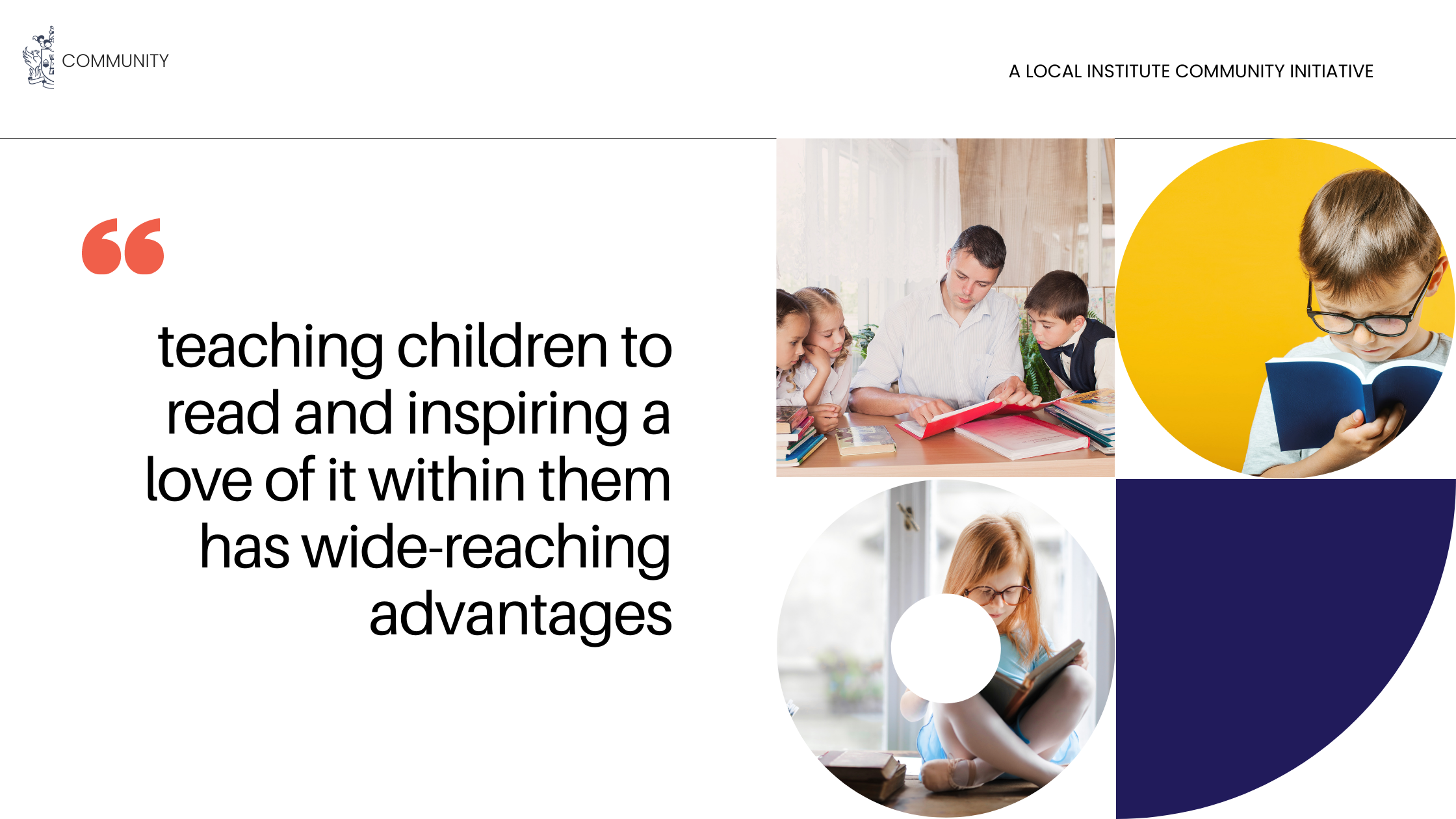 As Local Institutes, our Council members are constantly looking for opportunities for positive change within their (and your) local community. This has always been one of their highest priorities for them. Therefore, when they recently teamed up to take part in a pilot scheme of Business in the Community's 'Time to Read' initiative, in many ways the perfect alliance. We sat down with three of the first volunteers to find out more about their experiences.
Melanie MacDonald, Sales and Operations Manager at Willis Towers Watson

Had you any hesitation when asked to get involved in the Time to Read pilot programme?
Yes, I most definitely did and not because I didn't believe in the initiative, it was more to do with my own nervousness. I wasn't sure that I would be any good at it and I know how important the programme is and I was aware of the immense benefits for the children. I really wanted to give it my all. However, after the first session I really settled into it, and I would say that my confidence grew along with the children's and by the first block (four weeks) I had built up a great rapport with each of the children and felt like I had really gotten to know them and their personalities.

What surprised you most about the initiative?
I don't have any experience of teaching, but we received teaching notes and advice around the best way to read to children and it was very different from the way I had been taught in school. The approach is very much focused around engagement and exploring the words with the children in terms of the pictures around them etc. This helps them to get an in-depth understanding of what the words mean. In my opinion, it's an excellent approach as it opens up the conversation, helps with engagement and brings real and tangible meaning to the words. So, I would say the approach surprised me, but also, I was astonished at the effectiveness of the one-to-one support and how within a few short weeks we could really see a difference in the children's ability.

Would you recommend the programme to your colleagues to get involved in?
Yes, and without hesitation. I feel I got just as much out of the programme as the children did. It was so enjoyable and lots of fun. Also, to make a real difference and to see the excitement in the children each week was just wonderful. I feel that in a very short space of time we managed to encourage a love of reading within the children and hopefully it will be something that will continue for them throughout their school years and life.

Trish O'Hagan, Personal Lines and Operations Manager, Hastings Insurance Brokers

Did you find being involved with Time to Read a rewarding experience?
Absolutely – I would go as far as to say it was life enhancing! It had been a long time since I found anything as rewarding. In fact, the last time, was when I did some work in Uganda and similar to Time to Read it was all about education and helping children to foster a love of books. Time to Read is a really worthwhile and impactful programme and one which I believe has far reaching benefits. I can't emphasise enough what a great experience it was to see the children improve each week, and to see how engaged they were throughout.

Would you recommend the programme to your colleagues to get involved in?
Yes, without doubt – in fact I will be encouraging my colleagues in Sligo to get involved if they can. It's important that we try and make a difference and give back to our local communities. We are an institution that was founded on the belief of inspiring, educating and connecting and therefore Time to Read really is the perfect partnership. To be involved in this programme and to make a difference to these young people's lives is a privilege and I really do believe that you, as a volunteer, get as much out of the programme as the children do.

What advice would you give to anyone getting involved in the programme?
I think getting familiar with the books ahead of time is important. I think some of the books we used were better for engagement with the children compared with others, and of course different personalities will like different books, but I think from a volunteer perspective it's good to have done some prep in advance and to be familiar with the books and the story. This means that you have more confidence in what you're doing, and it allows you to think about the story ahead of time and how it could lead to wider conversations with the children.

Glenn Goggin, Managing Director, McLarens Ireland

Was this something you were keen to be involved in Glenn?
Yes, it was. It's a great initiative that has immense benefits, and I feel it's hugely important that we give back to the local communities in various ways. I have experience with coaching football to children and so I'm acutely aware of how additional help and one to one attention can really help children to progress and also help with their confidence. I'm quite passionate about working with children and I've seen first-hand how important it is to provide support to them, even if it's only in a small way, it can have a huge impact.

What did you enjoy most about the programme?
The children were just great! I just loved meeting them each week and seeing how they had progressed. They each had their own personalities and their individual strengths and weaknesses when it came to reading, and of course some needed more assistance than others. I can't overstate how rewarding it was to see their enthusiasm and to witness their progression. Reading is of course essential to life, and being able to help them improve their ability, while also encouraging a love of reading was incredibly gratifying.

Did you find it to be a big commitment each week?
Not at all – it's just one hour a week and when doing it on zoom it was even less time intensive, as we didn't need to travel. Getting involved and dedicating that time every week to Time to Read, took me out of my day-to-day life and away from my to-do-list - in many ways I feel it was an extremely grounding experience and one which brought me right back to earth. I looked forward to my Thursdays with the children and I have to admit it's something that I've actually missed since we finished up.


If you would like to learn more or would be interested in volunteering for 'Time to Read', please visit our Time to Read web page, or contact events@iii.ie.