At The Insurance Institute, we place an enormous value on recognition and we feel it's hugely important to recognise and celebrate achievements.
The Apprenticeship Recognition Awards is one such example of this. The awards, which place every December, are devoted to celebrating success amongst apprentice graduates, but also employers – particularly Supervisors who have gone over and above what's required and who have had a significant impact on the apprentices and their development. We chatted to Sarah Geraghty, SME Portfolio Underwriter, Allianz about how she felt to have won the award for Supervisor of the Year (General Insurance) last December and an insight into what her experience has been like being involved with the programme so far.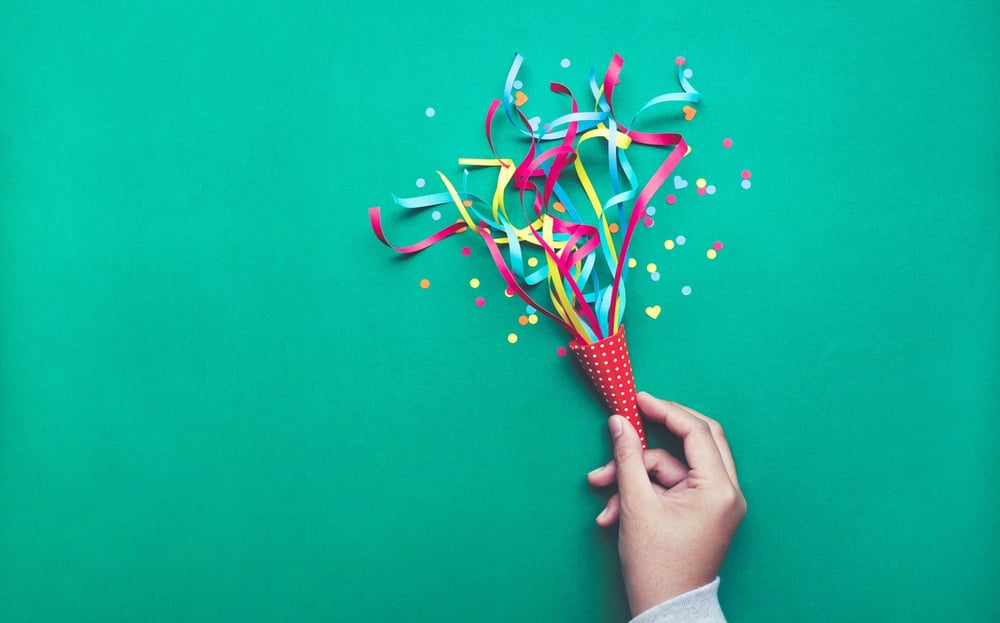 Sarah and her colleagues at Allianz have shown their apprentice's immense support and guidance throughout the programme, and their commitment and dedication to ensuring their apprentices succeed is representative of what the apprenticeship programme is all about.
Sarah, congratulations on your award for Supervisor of the Year – can you tell me what it meant to you and to Allianz to be recognised in this way?

Thank you, I was both shocked and humbled to receive the award. The commitment and dedication the Allianz apprentices have demonstrated over the past three years in completing the apprenticeship has been second to none and it's an honour to think my support helped in their journey to success.
Allianz has been giving back to the communities and people of Ireland for over 100 years and supporting communities and causes that underpin our society and its betterment. Allianz has an ethos of life-long learning which is evident by our involvement in our apprenticeship programmes, our partnership with Junior Achievement and support of continuous education for staff.
We value our people and aim to foster a working environment where employees feel comfortable to reach out to others for help and where existing employees are keen to offer any help and support to assist others as they strive for success. From an Allianz perspective, I hope this will encourage future apprenticeship candidates to consider Allianz as a potential employer as I believe this award is evidence of that culture within the organisation.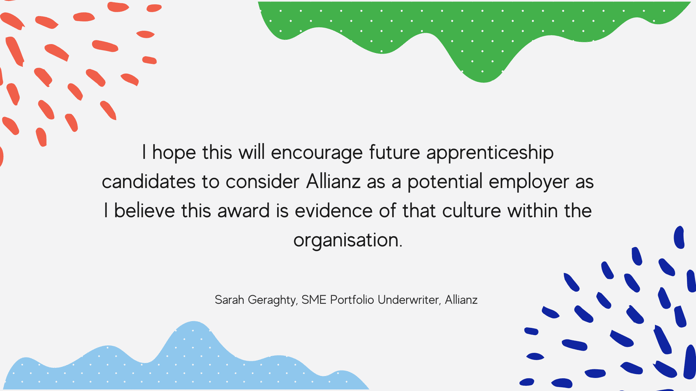 How long has Allianz been involved with the apprenticeship programme?

Allianz has been involved in the programme from the beginning in 2016. We recognised the possibility of a talent gap in the future as both recruitment and retention had become more of a challenge at the time. We saw the programme as being an innovative and accessible means of attracting talent with a keen interest in insurance who were committed to developing their skills and expertise. We hoped investing in the apprentices and offering them guidance and support over the course of the programme would benefit Allianz in the long term. Allianz continue to employ a number of apprentices each year which is a testament to the success of the programme from an employer's perspective.
The apprentices will achieve a third-level qualification on completion of the programme – how important was this to Allianz?

Allianz promotes a culture of lifelong learning therefore achieving a third level qualification is aligned with the importance Allianz places on learning. The apprentices of today are the future of the insurance industry therefore in addition to the insurance modules to meet the Central Bank competency requirement, skills like financial analysis, big data, innovations and critical thinking which forms part of the third level qualification are of the utmost importance.
Have you found that their training and education on the programme has been useful in terms of their day-to-day work?

I was supervisor to nine apprentices across a number of different areas and the benefit of the programme was evident in their confidence, knowledge and application of that knowledge in their day-to-day work.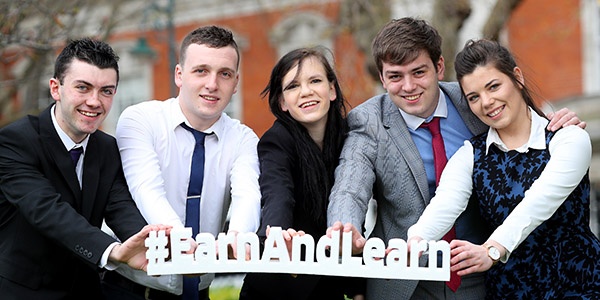 What are the three main advantages your apprentices have brought to your business?

Enthusiasm, a strong work ethic and an inquisitiveness of both processes and rationale which creates a positive energy within their teams.


Can you tell me what your role of Supervisor consisted of and why it is important?

My role was primarily based around the apprentice's work-based assessments. I encouraged and supported the apprentices to produce high-quality assignments by challenging them to choose other areas of the business rather than the areas they worked in to base their assignments on in order to gain a more rounded view of the industry and where possible build on their internal connections.
All the apprentices I supervised worked in retail insurance and had no exposure to the commercial side of the business. Through the work-based assignments, they were able to develop some insight into commercial insurance. As the apprenticeship programme is the beginning of their career in the insurance industry, I believe it is really important each apprentice has an understanding of the entire business, so they are fully aware of all the opportunities available to them as they choose the next steps in their career.


Did you feel the Supervisor role benefited you in any way?

Yes, absolutely I'm delighted to have had the opportunity to be involved in the programme. I don't think I truly appreciated the hard work and dedication required by each apprentice both personally and professionally in order to successfully complete the apprenticeship prior to getting involved. The apprentices also challenged me to question the status quo and think of innovative solutions where necessary as well as developing my people management skills in an open and collaborative manner.


Do you think the apprentices have managed to fill a skills gap in your organisation and have they brought new learning/insight to your business?

The apprenticeship programme is now a valued part of our organisation, not only have past and existing apprentices flourished in the roles they held as part of the programme, many are now full-time Allianz employees and have progressed into other departments as they continue to develop their careers in the insurance industry.
If you are interested in finding out more about the programme or are considering hiring an apprentice in your organisation, head over to earnandlearn.ie or email apprenticeship@iii.ie
You can also download our employers guide by following the link.