Our CEO Dermot Murray was delighted to have the opportunity recently to chat with Minister Niall Collins about the great work he and his department are doing in the area of apprenticeships. This is part 2 of this series - you can read part 1 here.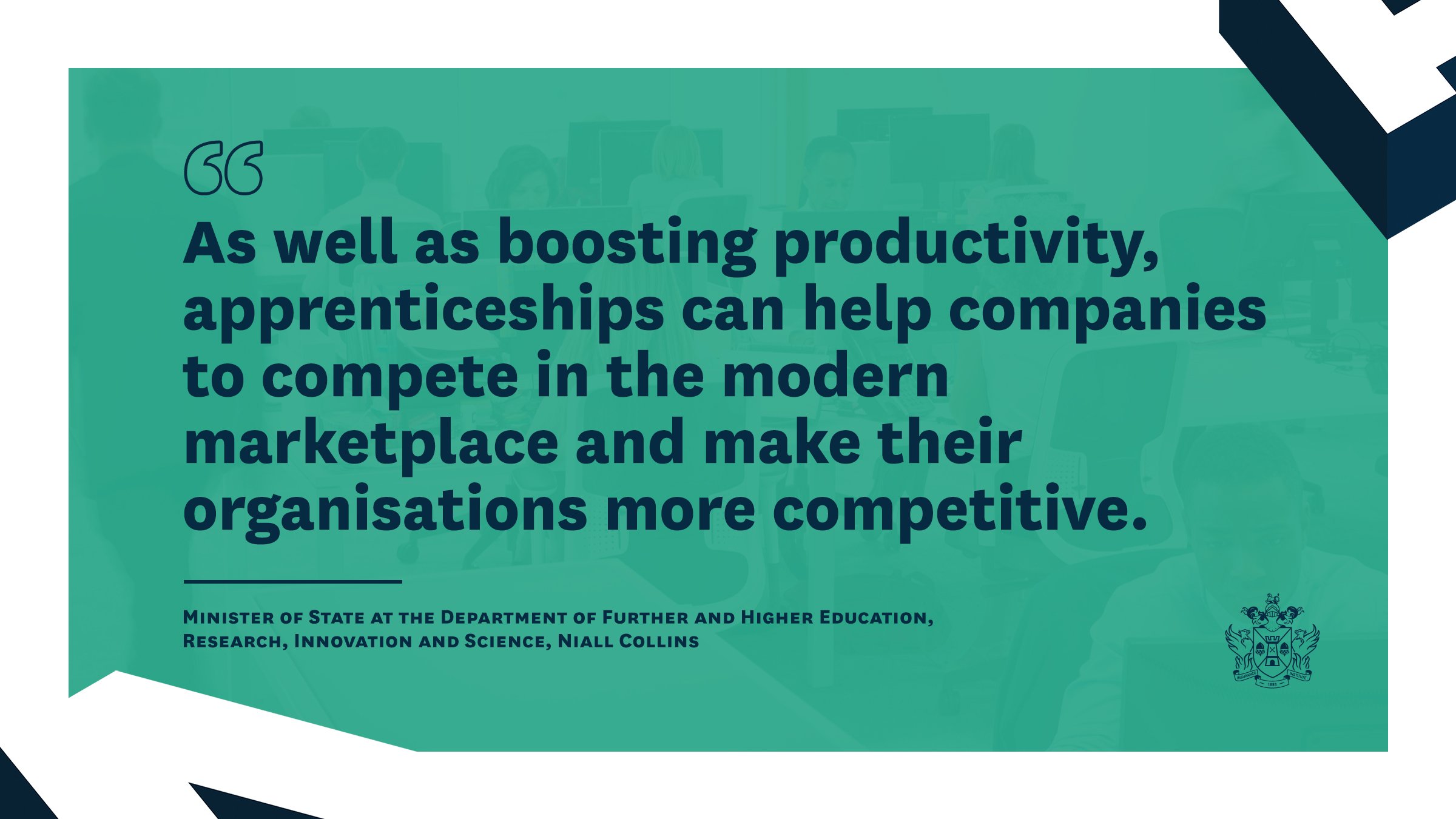 As part of the strategy will there be supports available for apprentices and employers?
This action plan is based on feedback from enterprise, the education and training sector and apprentices themselves, and we have listened to the issues and concerns raised. I know that you yourselves along with LIA and IT Sligo have invested heavily in terms of providing support material for your employers and potential apprenticeships through your earnandlearn.ie website, video content and blogs.

Prospective apprentices will be able to find out information about apprenticeship opportunities and will receive more support and clearer communication throughout their entire learning journey.

They will be encouraged to provide their views on the functioning and development of the apprenticeship system, by appropriate representation within stakeholder advisory bodies and by means of an annual survey of apprentices to be carried out by a new National Apprenticeship Office (NAO) as part of the data collection and evaluation framework. This office will make accessing information on, and engagement with, apprenticeships more straightforward, bringing together functions of SOLAS and the HEA.

Nobody understands the skills employers need better than the employers themselves. That is why we are driving supports, both financial and non-financial to encourage and support their engagement.


What do you expect the landscape of apprenticeships in Ireland to look like by 2025?
By 2025 apprenticeships will be a clear choice for people looking for a new career, qualification or return to work option across all sectors of the economy. A minimum of 10,000 new apprentice jobs will be available every year – and will be filled by learners of all ages and experience. At least 750 of those will be in the public sector.

Employers seeking to engage with apprenticeships will be able to do so in a straightforward and user friendly manner. Apprenticeships will be available, accessible and seen as a real and substantive option for those who learn best by doing and/or who may wish to earn while they learn.

Read more on the Action Plan for Apprenticeship here.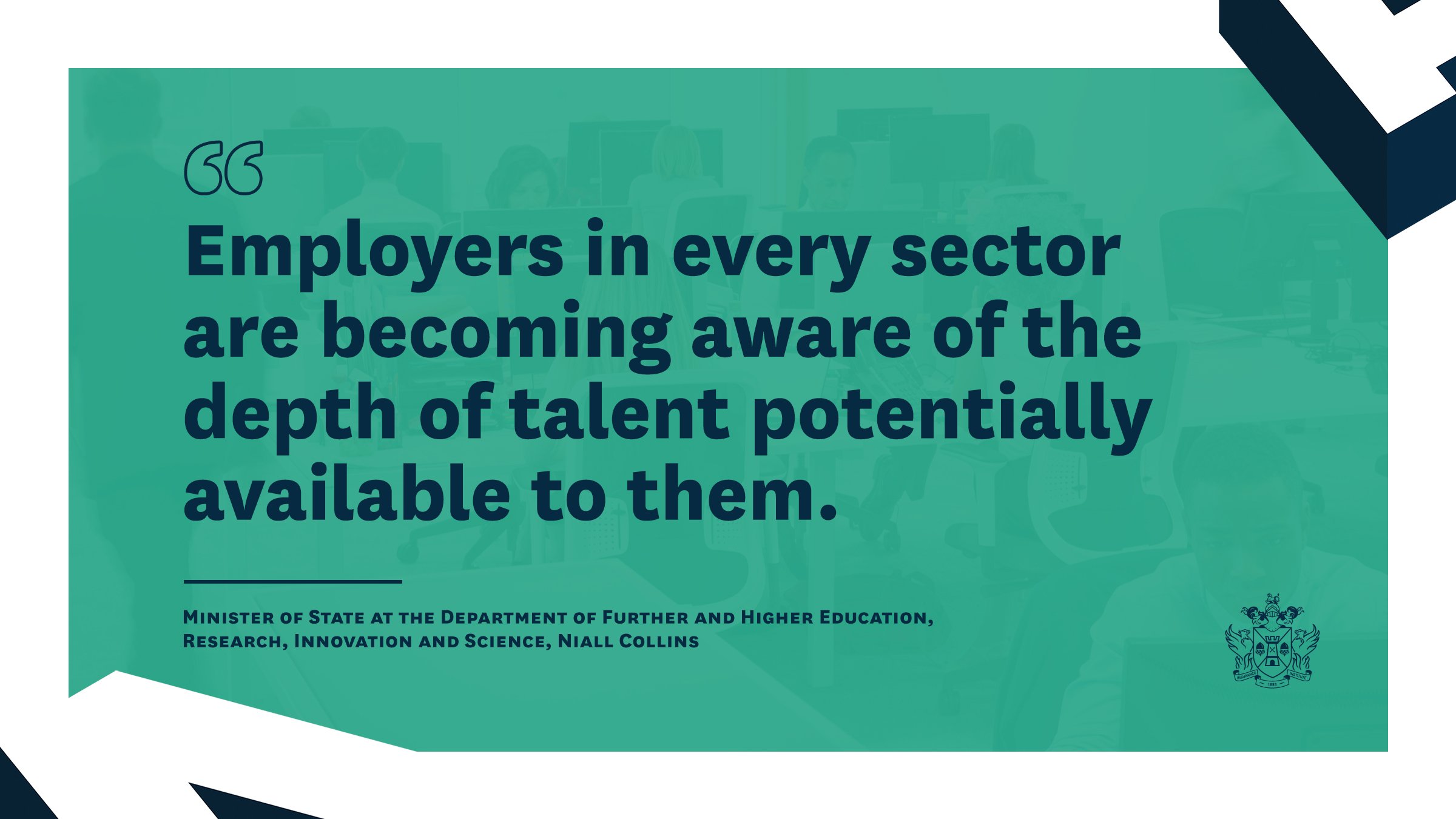 Diversity and Inclusivity is obviously hugely important to any successful apprenticeship programme – I presume this is a priority for the Government too?

Empowering people from under represented and marginalised sections of society to take their rightful place in the system is vital to the success of apprenticeships. Ensuring that the apprenticeship population reflects the general population is a stated aim of the Government in both the Programme for Government and the Action Plan for Apprenticeship.

The Action Plan will deliver structural reform which ensures that the apprenticeship system of the future will deliver a more responsive and visible offering to learners and employers. A National Apprenticeship Alliance will be established to provide stakeholder oversight of the delivery of the Action Plan for Apprenticeship in collaboration with a new National Apprenticeship Office.

Targets for participation by under-represented groups, and additional specific actions to support those target groups will be set in conjunction with the Equity of Access Subcommittee and will be monitored on an ongoing basis to ensure that interventions are working and that we are delivering greater diversity across the apprentice population.

Specific immediate actions set out in the plan include expansion of the employer bursary for female craft apprentices to all apprenticeships with greater than 80% representation of a single gender. An employer survey will determine if and where we need to help employers to ensure that they can access clear information on supporting employees with a disability.
But it's not just about incentivising and supporting employers – apprentices come from all backgrounds and some may need support which goes beyond their salary payments. To that end an apprentice bursary scheme will be established to fund up to 100 apprentices per year who are experiencing severe socioeconomic disadvantage.

It's an exciting time for apprenticeships – and I have to give credit to your programme as it was not only the first-degree level apprenticeship in Ireland, but it has also gone a long way in helping to shift perceptions.

We are at the cusp of really embedding work based learning within our education and training system as a clear and transparent offering that is available right across the economy and it's happening at a time of radical change for the country. This is a life changing step for employers and learners and I am looking forward to working with the sector to deliver that change during my time in office.
Find out more about The Insurance Practitioner Apprenticeship today.
This is part 2 of a 2 part blog series. Read part 1 here.