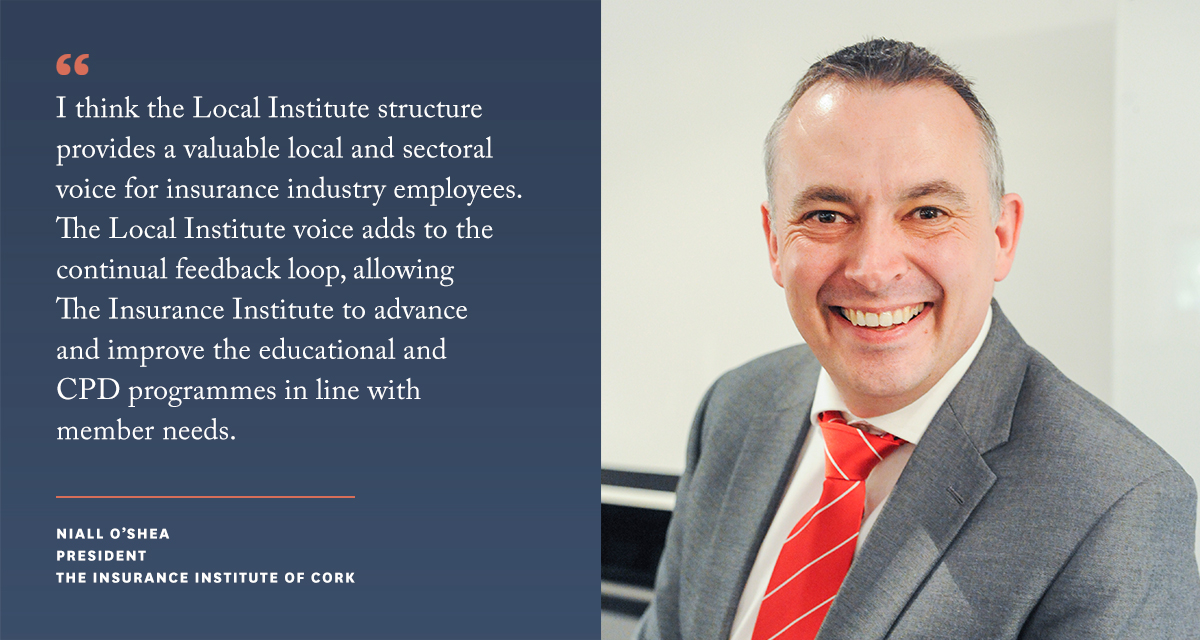 Niall O'Shea, President of The Insurance Institute of Cork
Niall O'Shea works in the area of health insurance, and in the past felt somewhat removed from the wider insurance industry. When he joined Council in 2014 all that changed – Niall credits his participation with broadening his industry knowledge and enabling him to make more connections.
We spoke with Niall and heard more about his involvement with the Institute.
How did you get involved with your Local Institute?
I joined Vhi in 2004, but it wasn't until 2014 that I decided to join Council. At the time my colleague Gearoid Gilley had just been nominated as Deputy President of The Insurance Institute. I had watched Gearoid's involvement with Local Council over the previous ten years and realised the value it brought both to him personally and to the wider insurance community.
When and why did you decide to join the Council?
I suppose the trigger was the news that Gearoid was moving into a national role. As Gearoid was moving from Local Council I thought it would be a good opportunity to go onto Council to ensure Vhi was represented. We have a proud tradition in Cork going back over 60 years and our involvement in the local business networks is an important part of that.
That AGM in 2014 was a bit of a testing moment for me - I remember attending and realising that I knew less than five people in the room and I had a brief moment of fear. That didn't last long though, from the minute the meeting was over, all of the Council Members made it their business to say hello and I can honestly say I made some great friends from that first meeting.
How has being a key part of the local insurance community benefitted you?
I'm involved in health insurance and we would be a little bit removed from many parts of the industry. My involvement with Council has really broadened my contacts and enhanced my knowledge of the industry. I now understand the strategy and value of the educational pathways and how The Insurance Institute is working to deliver added value to its members.
While all of the technology advancements are a great benefit to the industry, we're still in a people business. I've made some really strong connections from a work perspective, and the social aspect of our activities has meant that I've made many more friends through the Council.
Why should your members get involved with their Local Council and more importantly their local insurance community?
The Local Institutes are a great way for insurance professionals to learn more about the industry. The educational and career opportunities are great and being a council member gives you a first-hand view of this. I've also been on National Council for a few years and that's given me a real insight into how The Insurance Institute supports the 17,500 industry professionals in Ireland. As a members organisation The Insurance Institute has a great executive team and board. The work undertaken so far this year is a clear demonstration of the innovation and success mind-set that the in-house team bring to their roles.