In the next of our Inspiring Leaders series, Sandra Harvey-Graham, Apprenticeship Programme Manager at The Insurance Institute, talks about why she chose insurance over pharmacy and how her career has taken her to places she never thought possible.
How did you get your start in the insurance industry, Sandra?
I started at the tender age of 18 with Sun Alliance Insurance Group, having taken a year out after finishing my first year studying Pharmacy in Trinity College. I found college life very unstructured and it really didn't live up to my expectations.
I was lucky to be selected for a Professional Trainee programme in Sun Alliance which involved a rotation in different departments, specialising in one discipline (for me it was liability insurance) and a requirement to complete the ACII exams within the three year programme.
This is why I am so passionate about our apprenticeship programme, as I personally experienced the benefit of starting at the bottom, learning how different departments operate and seeing the 'big picture'. It was invaluable in shaping my career.
Did mentoring play a role in your career success?
Mentoring played a huge role in challenging and shaping my career. I had a brilliant senior work colleague who taught me all he knew about liability insurance and an equally talented (and eccentric!) surveyor who, with endless patience, helped me not only to learn the technical aspects of the survey role but also how to engage and professionally communicate with our customers – a great learning experience.
What's been the biggest challenge you have overcome in your career?
Moving from the underwriter/team manager/supervisor role to a senior manager role as a Portfolio Manager. Making the leap from managing people and work tasks to using analytical skills and developing behaviours such as communication, influencing and being self-motivated, was a big challenge. There were plenty of times I just yearned to review a file again, but when it clicks it's just brilliant!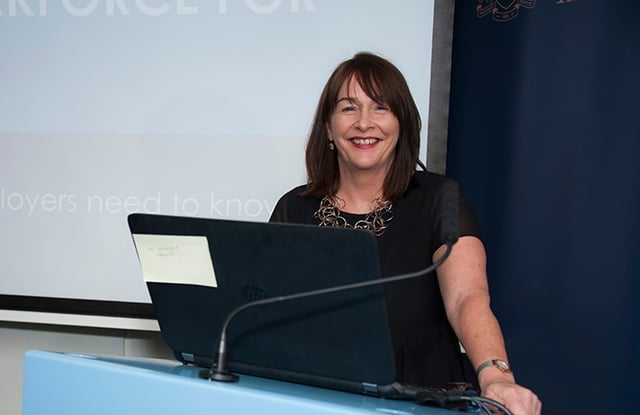 What advice would you give to someone starting out in the insurance industry, such as the new apprentices?
Commit to building a career. Start at the bottom and visualise the journey – you have to experience the routine to see how it all fits within an organisation. Be curious; ask why it's done that way and see if you can suggest something better. Go the extra mile. Put your hand up to help when needed. And most importantly, be yourself and make sure everyone knows who you are.
What do you think are the benefits of working in insurance?
It's so diverse. There is always something new to think about whether its digitalisation or new improved contracts that really meet the customer's requirements. Aside from that, the people are great and the career opportunities immense. I have met some wonderful characters along the way; some of my closest friends are the ones who started with me 34 years ago and a group of 8 of us still meet every month. It's been quite a journey!
What's been your most rewarding professional experience?
Without doubt launching Ireland's first apprenticeship programme in 52 years and the first ever at an honours degree level. It is a game changer in offering our young people a tangible alternative to college. That's so satisfying. Also providing local jobs for local people. That's makes me proud – helping our industry to engage in succession planning nationwide
What are your interests outside work?
I'll soon be finished my training to become a civil wedding celebrant. I think it suits my personality and it's a wonderful uplifting experience, to help those who are starting on their journey together or celebrating huge life events – weddings, renewal of vows, baby naming ceremonies. I'm so looking forward to starting on that path.
I also paint, sea swim and regularly try and put myself outside my comfort zone by jumping off piers and once flying a plane! I think that's my USP for the wedding business – sky dive with Sandra and get married at the same time!
Life should always be interesting. I guess I'm just a curious person. Next it's Tai Chi…