When studying towards any qualification, it can be difficult to see the light at the end of the tunnel. The long evenings and weekends you give up to read textbooks, make notes and take mock exams can feel frustrating and never-ending. However, as you pass each exam and draw closer to your qualification, remember that there is plenty to look forward to beyond gaining extra letters after your name.
Conferral ceremonies are always proud occasions for us here at The Insurance Institute, but even more so for our graduates and their families who come out in their hundreds to celebrate each year. Graduates Sharon Fox of Vhi Healthcare and her daughter Seána Cullen of First Ireland spoke to us about their journey towards graduation day.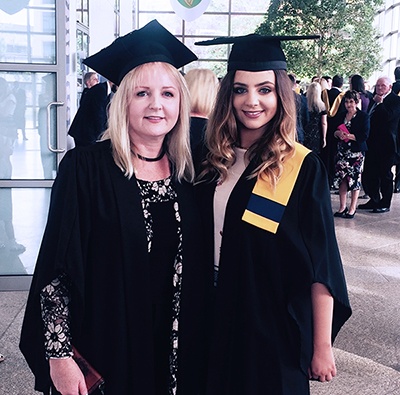 Sharon Fox (Vhi Healthcare) and her daughter Seána Cullen (First Ireland) at their conferral ceremony on 23 May 2017.
Can you tell us a bit about your careers in insurance?
Sharon: I've been working with Vhi Healthcare for over 37 years now. With the length of time I have been working in the insurance industry I could have gone down the grandfathering route, but Vhi are so supportive of their employees and want everyone to be up to speed with the latest trends and developments. This focus on professional development is what brings me here tonight to receive my second insurance qualification.
Seána: I began working in First Ireland 3 and a half years ago. I learned about the opportunities in insurance from my mam, so that's how I got started in the industry. What I love most about it is the challenge – you're not doing the same thing every day and you're always learning something new. And it's not every industry that you get the opportunity to earn a qualification as you work.
How have you found studying towards your professional qualification?
Sharon: I received the Diploma in Private Medical Insurance (Dip PMI) back in 2010 and I'm here tonight to receive my APA in Life Assurance. My previous experience of studying towards a qualification meant I was more prepared this time around and could advise Seána on the study supports available, like the webinars or mock exams. At Vhi we also do in-house lectures, which are so helpful. Having the support of your employer really makes all the difference.
Seána: Seeing my mam studying towards a qualification really gave me the motivation to do the same. She was able to recommend different strategies or study supports to me when I was stressing, so it really was so helpful. The webinars were my saving grace!
I'm receiving my APA in Commercial General Insurance this evening, but I've also completed the other modules towards the Professional Diploma in Insurance (CIP) qualification and I'm awaiting my results. Hopefully I'll be back again next year to receive that qualification!
How does it feel to be graduating together?
Sharon: It's fantastic to be able to celebrate this special occasion – I'm not sure many mothers and daughters can say that they graduated together! I had the option to attend the Vhi in-house conferral, but I wanted to attend The Insurance Institute of Dublin ceremony so Seána and I could receive our parchments and celebrate together.
Seána: It's so exciting. I didn't go to the conferral ceremony when I received my first APA in Personal General Insurance, so this is the first event like this I have attended and it means a lot. To be graduating alongside my mam makes it extra special. It may not feel like it when you're studying, but the hard work really does pay off and tonight is a wonderful recognition of the effort we put in.
Find out more about our conferral ceremonies and watch our video from the 2016 event here.