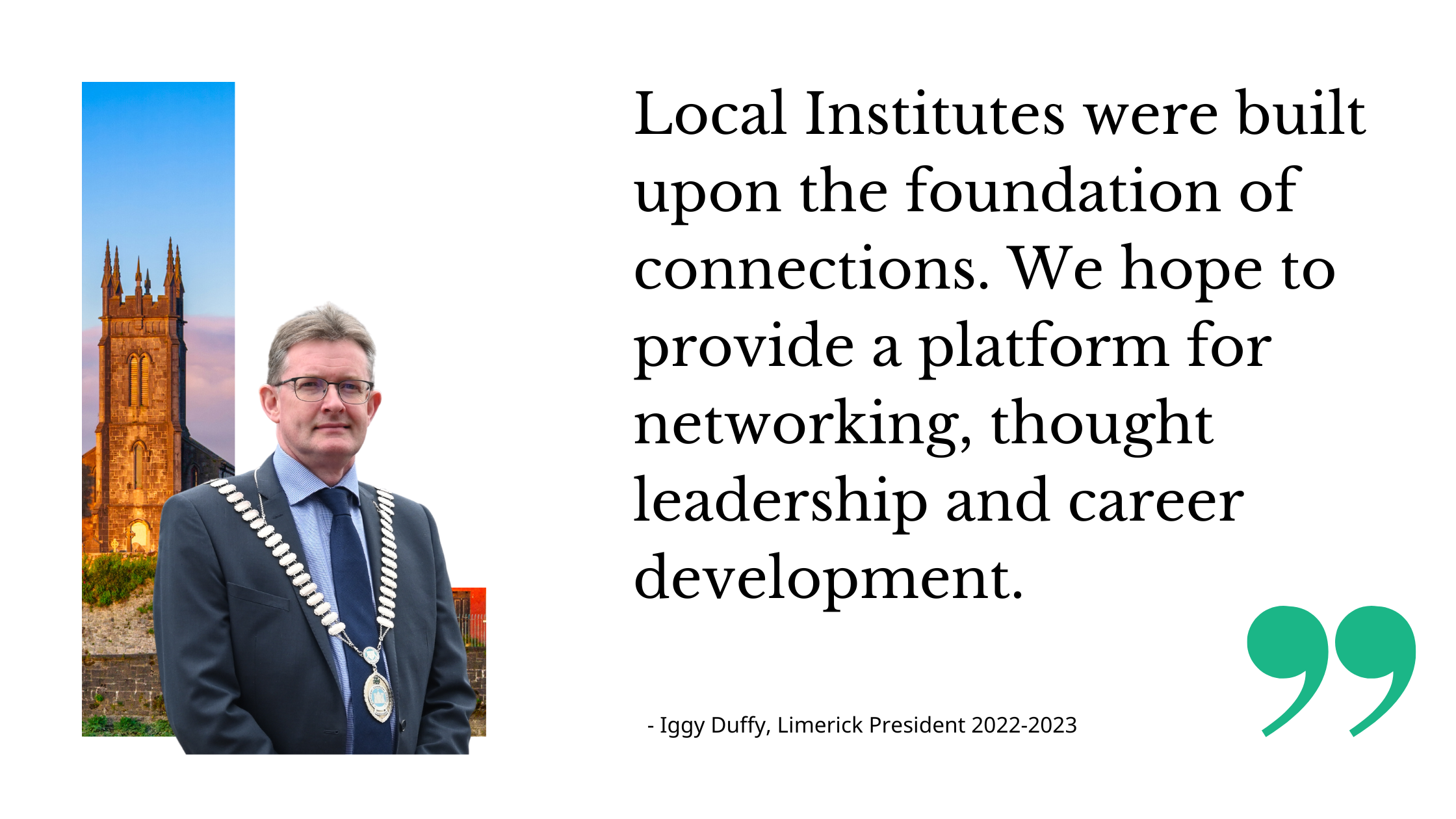 Each year our Local Councils appoint a new President. We sat down with our 2022/2023 cohort and chatted to them about their priorities for their year, how they got involved with the council and the benefits to their careers. Here is Limerick President Iggy Duffy's interview.
What motivated you to initially get involved with your Local Institute?
Initially the CPD lectures were my first introduction to The Insurance Institute. However, I soon realised that the Institute is a fantastic way to network with people involved in insurance both locally and nationally. The Local Institutes create opportunities for you to meet with peers and to share ideas – my involvement has also enabled me to make great friends with people across the industry.
When did you decide to join Council and what appealed to you about it?
I joined Council in 2014. I felt it was a wonderful way to contribute to the great work that the Institute has done locally for many decades, and I felt that it was a chance for me to give back to the industry that I've been lucky enough to build my career in.
I'm sure it's a great honour to be appointed President of your Institute – what does the role mean to you and what will be your main priorities for the year ahead?
Well, it is indeed a great honour to be appointed President of the Limerick Institute, but it is not without its challenges too. Our previous Limerick President, Cian O'Dea, did a fantastic job steering the Local Institute through the very difficult two-year Covid period. The priority of the Local Council with the help of The Insurance Institute now must be to adapt the Local Institute to the changed circumstances in the post Covid world and to keep our members engaged.
Has being involved in your local insurance community benefitted you – if so, how?
The main benefit from my point of view is getting to know fellow insurance practitioners both locally and nationally – this has not only enhanced my career, but also my life at a personal level. It has enabled me to keep my finger on the pulse of what is happening within the industry, while also allowing me to make great connections that have lasted a lifetime.
Do you think it's important for the Local Institutes to give back to the local community? Can you tell me about any plans / activities you have scheduled with this focus in mind?
Of course, giving back and being engaged with the local community is one of the core functions of the Local Institutes.
In addition to our charities lunch, pre covid we also teamed up with the local LIA for the annual table quiz which raised funds for a nominated local charity. In addition, we are working on expanding our charity themed events and we hope to have a full calendar of activities planned shortly – all of which will have a focus on bringing value to and giving back to the local community in Limerick.
Are there any aspects of the local Insurance community that you think have been lost/changed since you started your career (attitude towards education, networking, social)? Is there an opportunity during your year to reintroduce / re-energise some of these?
There have been huge developments over my time in the industry in terms of education and training which I believe have transformed the quality of the service that our industry provides.
I think a lot has been lost however in terms of the networking/social aspects – and Covid of course had a massive impact on this too. The importance of engaging with your colleagues in varied roles within the industry is hugely significant, not just for your own professional development but for the benefit of the sector as a whole - I see the opportunities for this type of networking in both formal and informal settings as something I would like to re-energise and focus on throughout my tenure.
How can members get more involved if they want?
Any member keen to get more involved should contact me or any member of the Local Council and we would be delighted to help. Whether you would like to join the Local Council or just want to be a more active member, there's a role for everyone. Also, keep an eye out for the local events and come along when you get the chance - you will meet a fantastic group of colleagues who you will no doubt have lots in common with.