Online learning has exploded in recent years – we are seeing organisations – from world-renowned educational institutions and Universities to global corporations adopting it and, in many cases, choosing it over the traditional learning classroom model. It's estimated that by 2025, the global EdTech market will be worth $350 Billion and this is backed up by research which shows that students or learners retain 25–60% more information when learning online compared to 8–10% in the classroom.
It's therefore not surprising that the ways in which we learn online are being enhanced further and tools and techniques are being deployed to improve our learning experience and our ability to retain information – this is where gamification has come to the fore and it's currently the hottest ticket in town with regards online learning. We investigate the rise of gamification in education – the benefits and what the future might have in store.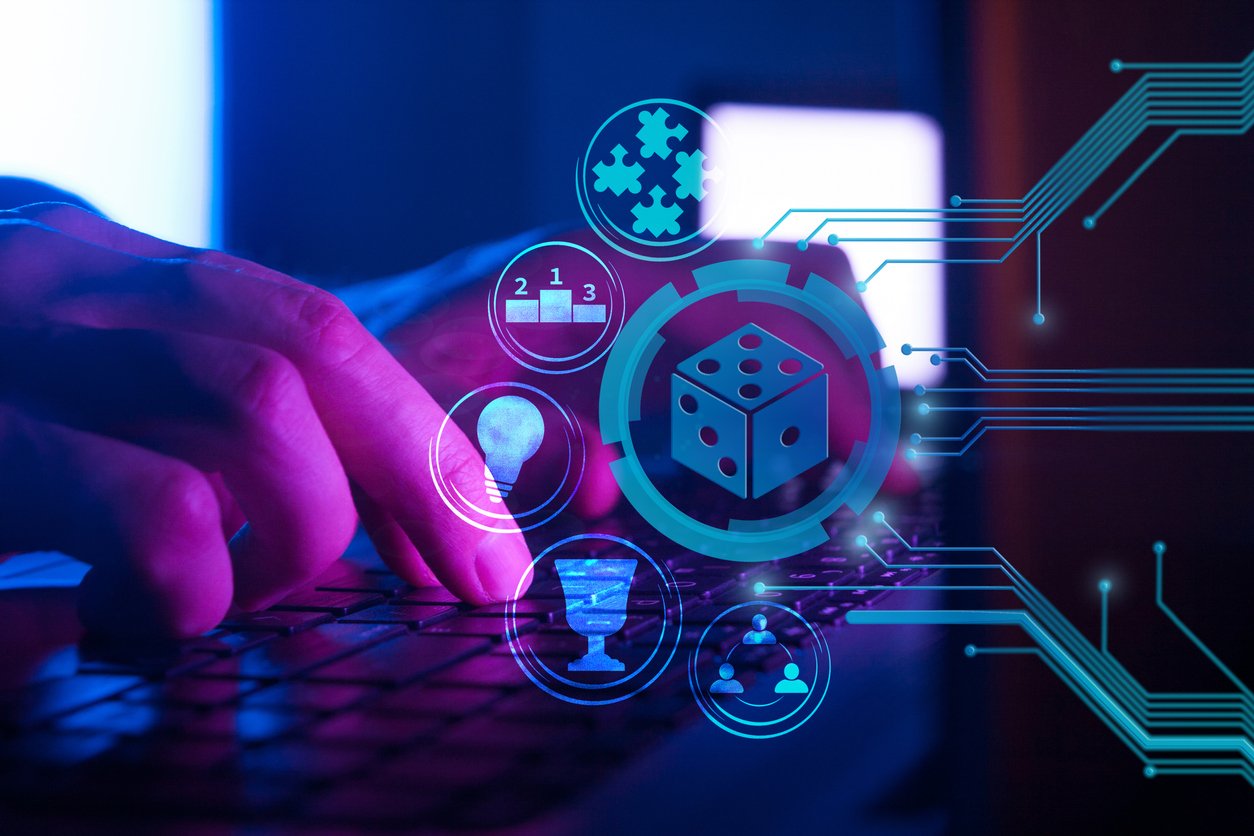 What is gamification and where did it originate?
Gamification refers to the implementation of game design elements (badges, rewards, point scoring etc.) to other areas of activity (such as marketing techniques or education) to encourage participation and engagement. The central idea is to take the 'building blocks' of games and to implement these in real-world situations, often with the goal of motivating specific behaviours within the gamified situation. In recent years the benefits of gamification have become widely acknowledged and we have seen its application boost participation in education and learning settings. Gamification has been proven to make learning more enjoyable, immersive and accessible, resulting in higher uptake in educational programmes and ongoing participation.
Gamification Benefits for Learning
The psychology behind gamification is fascinating. As referenced in Gabe Zichermann's book 'Gamification by Design', it's believed that gamification is '75% psychology and 25% technology' - meaning that gamification taps into something inherent in us all. Research shows that when we participate in activities that we find rewarding and fun endorphins are released. So when we engage with gamified learning and we achieve rewards, this stimulates the release of endorphins and in turn creates an environment where we feel calm, which allows us to retain information better. The endorphins not only make us feel good but they also provide us with a sense of excitement and so the learning experience becomes one that we want to repeat again and again. This motivates us to continue to use the application and, before we know it, we are actually learning various, sometimes complex subject matters with ease.
Dr. Helen Williams, a Creative Digital Media lecturer at Technological University Dublin can strongly attest to the benefits. Helen has been using gamified methods and applications in teaching for many years now, and she believes it to be highly effective. Helen says "Games are obviously already hugely prevalent in society and when applied to the classroom and e-learning we see great engagement with our students. In my experience it makes learning more immersive – there is an intrinsic sense of achievement and fun, and it provides students with a safe space where they experiment with consequences without having to worry about failure. This in turn leads to greater retention of information and supports their overall learning experience."
Helen believes we are witnessing an explosion of gamified learning and she says "It's a hugely exciting time to be involved in the industry as gamification is getting more recognition, and it's good to see that the organisations and educational institutions using it are becoming braver."
Linda Waters, from Learnovate strongly agrees. Learnovate is an applied research centre in Trinity College with experience in learning technology and innovation. Learnovate works with organisations – start-ups, multinationals and educational organisations – to help understand their challenges from an educational technology perspective and provides them with recommendations on solutions that will enhance their learning experience.
The pandemic has rapidly accelerated progress in the learning technology sector. Linda says "Covid-19 changed everything in the learning and gamification setting – we've been working on solutions for clients for years and they just weren't ready to implement them – then, overnight they had no choice. They quickly had to diversify or they would be left behind."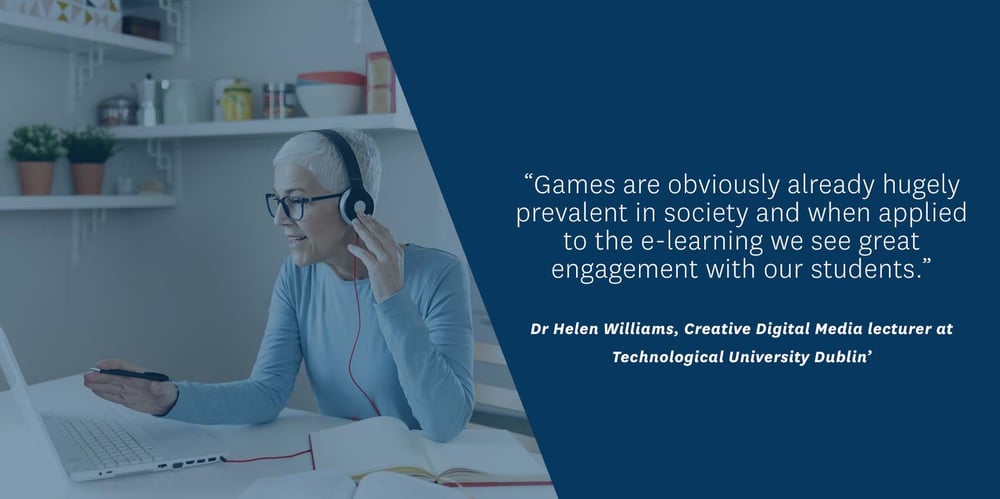 Considerations for Gamified Learning
Linda's colleague in Learnovate, Janet Benson, is an expert in adult learning and has hands-on experience of implementing and recommending gamified solutions. Janet believes gamification enhances learners' experience but, as with any learning experience, there are several factors to take into consideration. It's important to recognise that it's not a one-size-fits-all approach and not all learning experiences should and can be gamified.
Janet says, "Organisations need to understand what gamification can and can't do and what you want it to do for your learning experience. Content is important, but also context. For example, think about why you want to gamify an experience. Are you having issues with motivation and engagement of learners? Might a gamified experience help with this? What elements of gamification are you looking at creating (such as badges, leader boards, competitions) and will this help to make the experience more engaging for your learners or might another approach suit better? While gamification can work well with many different types of content, you may want to consider if adding gamification may impact on the gravity of the subject, for example."
"As with many approaches to learning, it's important to get the fundamentals right and then see what technology can support this. Most of the more popular approaches to gamification can be developed using most eLearning development software and a supporting LMS."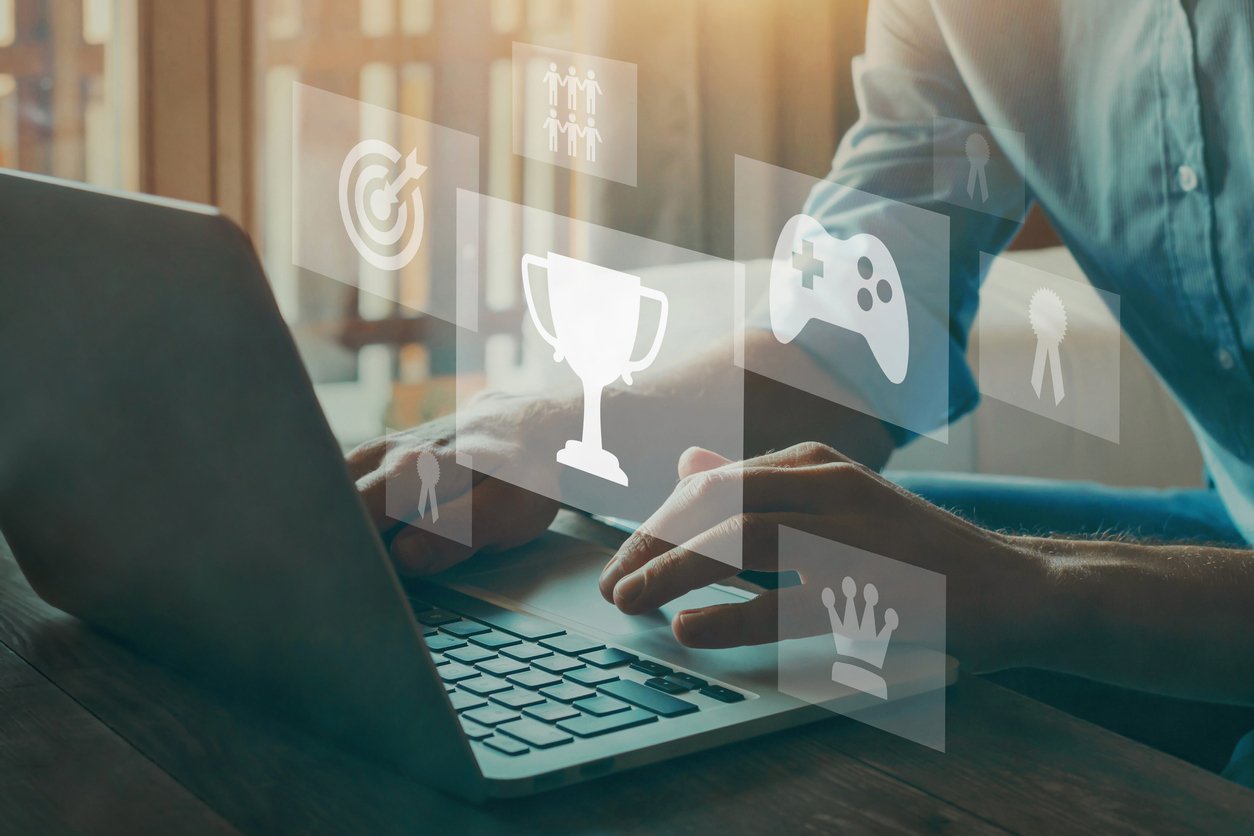 Gamification for the Future of Education
While the concept of gamification has been around since the 1970s, gamification in learning and education is still very much in its infancy. Many organisations are already reaping the benefits, which will help to further progress academic research and provide education providers with confidence in applying it.
The continued advancement of technological innovation will have a profound impact on gamification in education, and it's expected that new opportunities – including everything from augmented reality, virtual reality, machine learning and game worlds – hold enormous potential both for the educator and for the learners. It's a hugely exciting time for both the education and learning technology area and we will have to watch this space to see what games lay ahead!
You can read more about our own use of gamified learning and the Quitch app here.