In the first issue of our member magazine, The Insider, we spoke to Alan Burke (RSA, Galway) to find out more about his career in underwriting.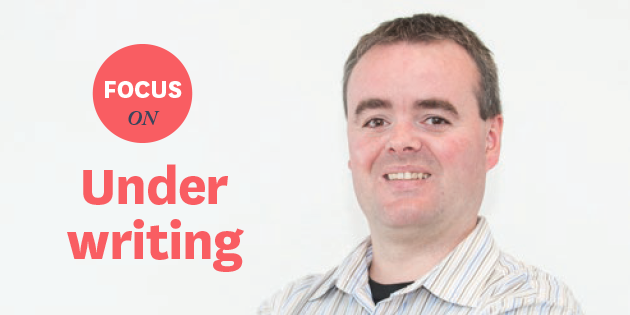 Can you give us some background as to how you joined the insurance industry?
In April 2009, I was made redundant while working for a company that was supplying services to the construction industry. Shortly after, I took up an opportunity on the WPP (Work Placement Programme) in a brokerage in Tuam – at the time they were recruiting under the scheme on a 6 month contract basis. I applied for the position through FÁS (now SOLAS) and got the job.
The brokerage had just been taken over by another firm and they were looking for a dedicated resource to support the updating and transitioning of records to the company's systems. After a few months I was given a part-time contract working 3 days a week, in their renewals/sales department handling customer renewals for personal home and motor, commercial motor and farm policies. My role involved providing new quotations and handling mid-term adjustments. I began working in RSA in the Claims department in Galway in September 2015.
How did you get into underwriting specifically?
I was working in the Claims department with RSA and received an email to advise of upcoming internal positions for underwriters in our Operations Centre in Galway. I applied for the position, went through the recruitment process and was offered the role. I'm currently working within the Bank of Ireland Home and Motor Underwriting Team. That's one of the great things about working in this industry – a new opportunity is always right around the corner.
What does a typical day look like? It can vary day to day. One day I could be on the phones dealing with customer queries and queries from our partner Bank of Ireland, dealing with acceptances of quotes completed and queries on unusual risks. Another day I could be on administrative duties dealing with queries in our team email inboxes and post received from customers, and from Bank of Ireland branches. No two days are ever the same.
What do you like most about your job?
I enjoy the interaction with the customers on the phone – there will always be something that will come up that is different or unusual. My job is to make sure the customer gets the best experience, that I can help them as best I can and that we can give them the right advice. Knowing that I've helped someone at the end of the day is very rewarding.
What's the most challenging part of your role?
It can sometimes be a challenge to help a customer who may have very little understanding of insurance and how it works. In that case, I need to put myself in their shoes and try and understand how best to help them – they need to be reassured and not be overloaded with technical jargon or information about our internal processes, for example.
What are your future career goals?
I'm working towards a more senior underwriting role, I want to continue to build up my insurance knowledge and learn more about the other areas of the business. I have been really lucky so far to have been able to see the industry through the broker's eyes and from the insurance company side as well.
I've had some great opportunities – having had some claims handling experience and now learning more about the underwriting side of the business. I wasn't too excited to take on the exams but having completed the APA and being well on the way to completing the CIP, I would consider further study in the future. I might take a bit of a break first!
Do you have any advice for someone looking to start a career in underwriting?
Research the roles available in insurance companies and see which roles you would be interested in pursuing. Check entry requirements and tailor your experiences to what skills and knowledge the positions require. Also, look into what exams you will have to do in order to work within the insurance industry.
There is also no harm in ringing the HR department of the insurance company to get some info on roles and requirements. The Insurance Institute's website also has information on the exams you need to get started.
Want to learn more about starting or advancing your career in insurance?