For the next installment of our Inspiring Leaders series, Fiona Taylor, HR Business Partner Manager with Irish Life, talks about overcoming self-doubt and grasping every opportunity that presents itself.
How did you get your start in HR in the insurance industry?
Being honest, there was no great plan. I joined AXA Ireland after returning from studying a degree in Business and German in Manchester. After working in the customer call centre for about 9 months, two roles were advertised in the HR department and I thought I'd like to give HR a try. 12 years on, I'm still in HR and still working in financial services.
I believe that one of the reasons I have done so well in HR in my career to date was that short time at the start of my career working in the business. In HR you need to know your business and no matter what HR role I have carried out, my first task has always been to learn and understand the business I operate in.
Did mentoring play a role in your career success?
Most definitely and still does. I have never participated in a formal mentoring programme, but there are people who without a doubt have helped to shape me into the HR professional and leader that I am today.
Mentors come in many different forms and I hope that I also have either consciously or unconsciously acted as a mentor and guide to others in their careers in the same way.
What's been the biggest challenge you have overcome in your career?
I would say that the biggest challenge that I have overcome, and continue to overcome, is myself. I'd be lying if I said otherwise. Am I good enough to take the next career step, can I deliver that strategic project I've been tasked with, what if I don't know the answer to a question?
From speaking to others I think self-doubt is something many of us deal with on a regular basis. How I deal with it is that I don't give it time to embed itself. As soon as it creeps in, I say to myself "What's the worst that can happen?" and then get on to what needs doing.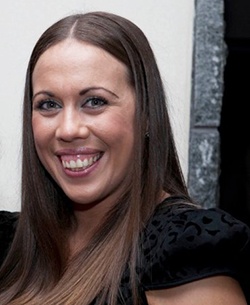 What advice would you give to someone looking to follow a similar career path to you?
A piece of advice that I was given by one of my mentors as referenced earlier – say "yes". If you are asked to do something or get involved in something, say "yes". Don't pause, don't think about it, say "yes". Take every opportunity that presents itself, even though you might not see the value at the time.
There were times in my career when I took on work or projects that were mentioned to me years later as times that I really stood out as a leader. You never know where opportunity is going to present itself so always be prepared.
What do you think are the benefits of working in insurance?
For me it's twofold. Early on in your career it's the professional education opportunities that are available and the fact that you can join the insurance industry straight from school. Following this it is the vast array of professional specialisms that are available - HR, Marketing, IT, Accounting, Actuarial, Legal, Underwriting, Digital, Data and the list goes on and on. That's aside from the customer pieces of sales and claims handling which are the core of every business.
What's been your most rewarding professional experience?
That's a tough question as there have been big strategic projects that I have been involved in delivering, and then there have been individual personal and work situations that I have supported employees through. I really couldn't pick one but for me it is the latter that I feel most rewarded by on an ongoing basis. These are usually the things that go unnoticed at an organisational level but for the employee, it can have a huge impact on their enjoyment of work or ultimately their life.
And finally, what are your interests outside work?
Anyone who knows me, knows that each weekend you will find me up some mountain or another! I love both the social interaction hiking with others brings but also the solitude of the mountains. I'd highly recommend hiking as a way to clear the stresses of day to day life away. Within 10 minutes of being in the mountains, I couldn't tell you what happened at work that week!