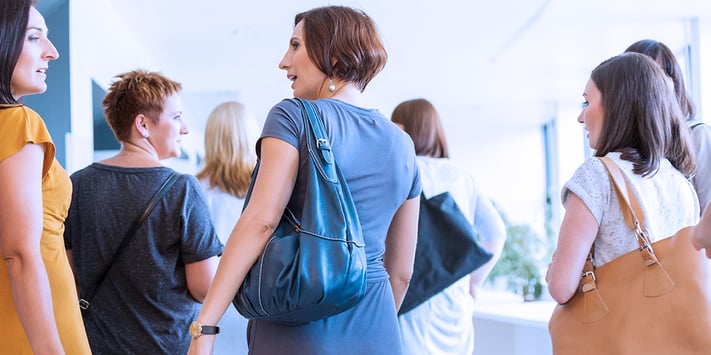 If you're someone who comes out in a cold sweat when you hear the term 'networking', don't worry – you're not alone. Many people find it difficult to strike up conversation at professional events; however, networking and relationship building is a cornerstone of the insurance industry, so avoiding it will mean you could miss out on some valuable career opportunities.
While online networking through channels like LinkedIn is becoming more popular, face to face still proves most effective so here is our advice to get the most out of your next event.
Arrive early
It can be difficult to mingle in a large crowd, particularly if you're new to networking or are a naturally introverted person. Arriving early will allow you to engage in one-to-one conversations or participate in small group discussions. It will also help you to become more relaxed as the event goes on.
Come prepared
It is useful to have a few general questions prepared to help break the ice and generate conversation. These could include 'How long have you worked for your company?' or 'What do you like most about your work/role?'
Bring along your business card and don't be afraid to hand it out if you feel you've identified a potential opportunity.
Bring a colleague
There's no need to go it alone. If you're not used to attending networking events, it can help to bring along a friend or colleague to help you feel more relaxed; however, make sure you do not fall into the habit of just speaking to them and nobody else at the event.
Practice makes perfect
It's likely that you won't be a networking pro after attending just a couple of events. Persevere and take advantage of every opportunity that comes your way by attending events near you including lunches, CPD lectures or industry seminars.
Dress the part

Remember to look professional when attending networking events – you're building your professional profile, so it's important that you look the part.
Follow up
If you've identified a business opportunity or potential new contact, don't be afraid to follow up with an email or a LinkedIn message after the event.
Networking is a valuable professional and personal skill, so take the time to develop it and you'll find new opportunities throughout the industry and beyond will open to you.
These articles will help you to further perfect your networking skills:
How to overcome your networking anxiety