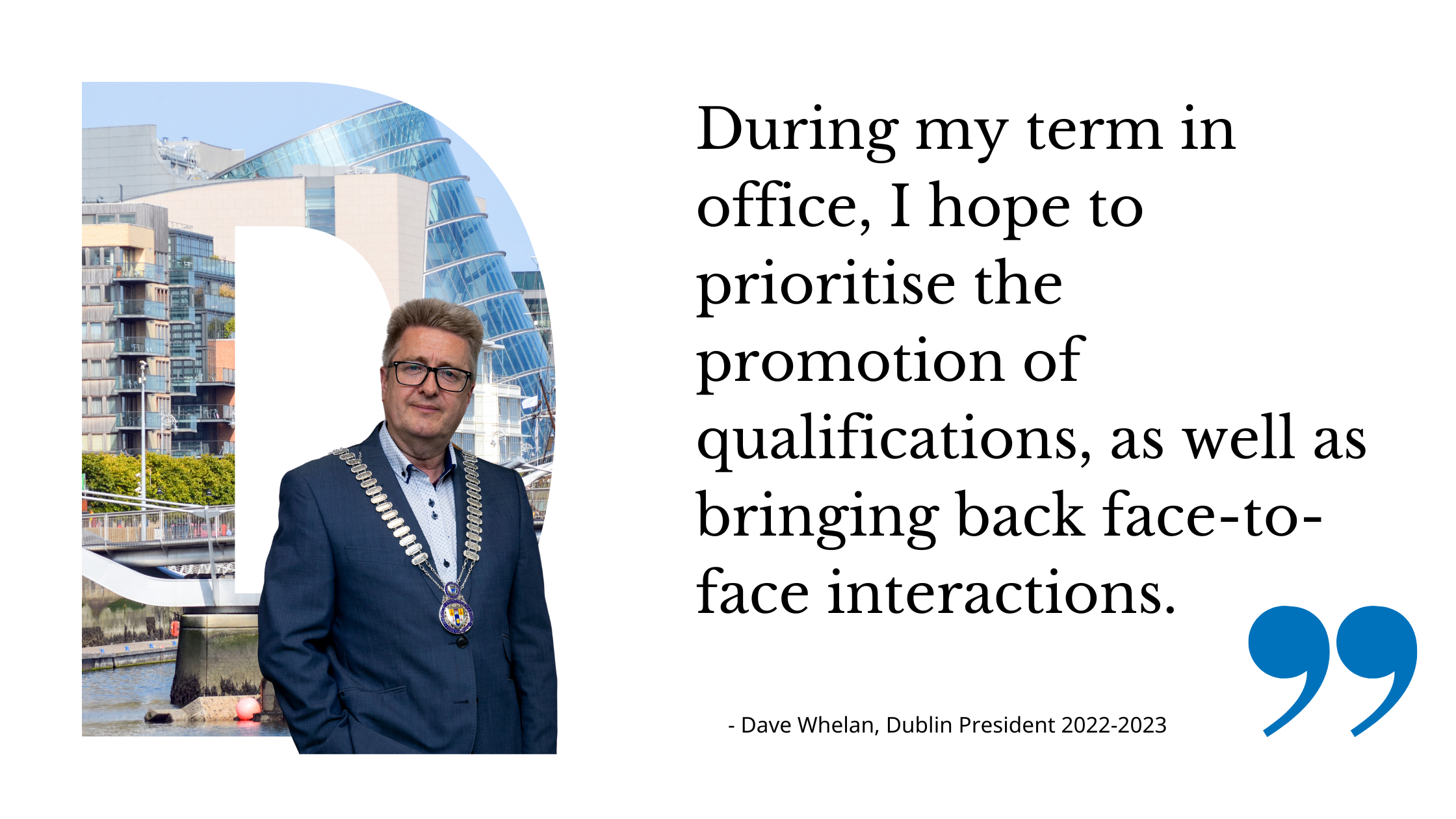 Each year our Local Councils appoint a new President. We sat down with our 2022/2023 cohort and chatted to them about their priorities for their year, how they got involved with the council and the benefits to their careers. Here is Dublin President, Dave Whelan's interview.
What motivated you to initially get involved with your Local Institute?
I first engaged with the Local Institute of Dublin in 2010, at that time my friend, Frank Kavanagh, was heavily involved, and he had suggested it to me and had relayed the many benefits. In particular, Frank had mentioned how it was a great way to network with the insurance community and people working in the industry from various backgrounds, at the time this really appealed to me as I wanted to widen my network and the Local Institute seemed like a great way to go about it.
When did you decide to join Council and what appealed to you about it?
I joined Dublin Council in the Spring of 2011 and the National Council of the Institute in the Spring of 2017. I wanted to help encourage involvement in education amongst members - when I became involved with the Local Institute initially it really helped me to prioritise my education and qualifications, I began to really understand their value and importance. I felt that by joining Council I could help to instil this passion for life-long learning in other members and encourage them to continue with and invest in their education beyond just the basic requirements.
I'm sure it's a great honour to be appointed President of your Institute – what does the role mean to you and what will be your main priorities for the year ahead?
It is certainly a great honour to be asked and then to be appointed President of The Insurance Institute of Dublin. My main priority for the year ahead will be focused on education and assisting members on their educational pathway. As an industry we have much to be proud of, but there is still some work to be done in shifting the mindset from insurance as a job to a profession. Education is central to this, and I would really like to focus on and seek to find out what might be stopping people from taking that next step or what can we do to help employers to motivate their staff to get their qualifications. Life-long learning is essential to a career in insurance, and it is something which will only help to improve your professional development and your career options.
Has being involved in your local insurance community benefitted you – if so, how?
Yes, it certainly has benefited me – the connections I have made through the insurance community in Dublin have been great – both from a personal but also a professional perspective. Prior to Covid there were lots of opportunities to meet with your colleagues and peers – be that through social events organised by the Institute or through CPD lectures. This is something I have missed but which we will hopefully be able to prioritise in the year ahead.
I would also add that being involved with my Local Institute provided me with the opportunity to take up various roles outside of what my day job entailed – for example I was Treasurer and then Secretary at one point – both were hugely interesting opportunities that allowed me to gain new skills.
Starting out in a career in insurance can be daunting; what advice would you give to those just beginning down this path? Do you think involvement with a Local Institute is important at this stage?
I do not believe that it is as daunting as it was at one time, to be honest – there are so many options now to get you to where you want to go, and it makes your career trajectory so much more straightforward. The apprenticeship for example is a wonderful initiative and a terrific way to start your career in insurance – not only do you receive a third-level qualification, but you also gain real work experience and earn a salary. I think for anyone starting out on this path the apprenticeship is the route to go – it provides a structure and helps shift your mindset to your career and its longevity.
I also think that involvement with the Local Institute is important at every stage of a career in insurance and certainly at the beginning as it can help you to build your profile within the insurance community and encourages ambition.
Do you think it's important for the Local Institutes to give back to the local community? Can you tell me about any plans / activities you have scheduled with this focus in mind?
Indeed, it is imperative that the Local Institutes give back to the local community. We have a few things in the pipeline, but nothing scheduled just yet aside from our involvement with Time to Read, an initiative that is focused on helping young children improve their reading ability. It is a fantastic programme, and one I know our members and Council will be eager to get involved in. We hope to integrate it into our activities for the year and we will do all we can to promote participation.
Are there any aspects of the local Insurance community that you think have been lost/changed since you started your career (attitude towards education, networking, social)? Is there an opportunity during your year to reintroduce / re-energise some of these?
I do believe there needs to be more of a focus on education across the board. We all have a role to play, from employers, to Council members, to the Institute – we need to be encouraging and supporting educational qualifications. I believe it is something at an early stage that needs to be fostered and nurtured in younger members – when starting out if they can prioritise their education and understand its value then hopefully this is something that will continue throughout their career. During my tenure as President of The Insurance Institute of Dublin I intend to make the promotion and communication of education a priority.
How can members get more involved if they want?
Volunteering is a wonderful way to get involved and gives you a real taste for the work that we do. We are always looking for people to help with certain events, such as the AGM. We are also always keen to hear from anyone who would like to learn more or who would like to get involved, so do not hesitate to get in touch.