Caitriona Somers has held multiple senior positions in the insurance industry. Here, she offers her advice on how to progress in your insurance career.
How did you get your start in the insurance industry?
Like most of Ireland who finished school in the 1980s, I was not going to college. Instead I followed the tried and tested path to securing the permanent, pensionable job parents wanted for their children – I applied to the civil service, banks and insurance companies.
The summer I finished school, Hibernian Insurance were hiring insurance clerks. After a successful application I was delighted to start working in the Accounts department of Hibernian's City Broker Branch in Molesworth Street, Dublin.
Did mentoring play a role in your career success?
I was extremely lucky that during the formative years of my career, I worked for organisations with very strong mentoring cultures. Firstly Hibernian (now Aviva), who actively supported all staff to pursue the Advanced Diploma in Insurance (ACII) and encouraged transfers between the underwriting and claims departments to broaden employees' knowledge of the business.
I then joined Scully Tyrrell as a trainee loss adjuster, where on-the-job training and formal qualifications were hugely important. Each trainee and junior adjuster was assigned to a senior partner on a one-to-one basis, who actively mentored them. Promotion was equally dependant on performance and attainment of a formal qualification, which would not have been possible in Loss Adjusting without the assistance of your mentor.
What's been the biggest challenge you have overcome in your career?
Gosh, in many ways it is hard to say what has been the biggest. As you would expect for someone working in the industry as long as I have – over 30 years – there have been many challenges and that is what has made life so interesting.
The first big challenge was having to leave that first permanent and pensionable job so that I could become a Claims Inspector. At first I could not find this type of role within an insurance company, so I became a trainee loss adjuster with Scully Tyrrell and never looked back.
I was the first female Loss Adjuster ever appointed by the firm and progressed through the ranks as the company grew four fold. It eventually became part of the Global Cunningham Lindsey loss adjusting and claims management group, where I held the position of CEO of the Irish subsidiary as well as being a member of the global executive leadership team.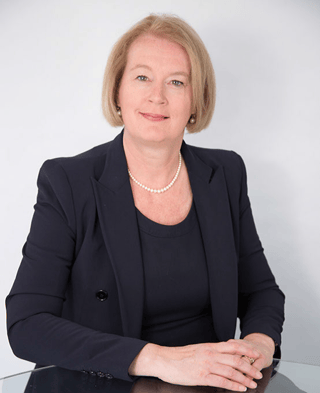 What advice would you give to someone starting out in the insurance industry?
Always embark on securing your professional insurance qualifications early in your career and try to work in different areas of the insurance business. In that way you are sure to find an area and a role that you will enjoy.
What do you think are the benefits of working in insurance?
Anything is possible. You can enjoy a diverse and challenging career, whether it is as an insurance expert, a professional in the areas of finance and technology or a sales and marketing guru. I started off as an account clerk all those years ago was the CEO of a successful business a member of a global executive leadership team of an international organisation and now hold various non-executive director positions. During the course of my career I had the opportunity to work in so many different roles on global projects and in all parts of the country as well as Europe.
What's been your most rewarding professional experience?
Over the years I have had the opportunity to mentor and it's so rewarding to see so many of those I mentored now holding senior positions within the sector. In addition I was very proud to be CEO of an Irish subsidiary which, despite its size relative to other group companies, was viewed as an exemplar in terms of its financial success, quality personnel and innovation – all of which was thanks to a dedicated professional and responsive workforce in Ireland.
What are your interests outside work?
From a young age I have been a keen swimmer and was involved with the Irish Water Safety Association for nearly 20 years. In addition to learning all important water and life skills, I had great fun and built some lifelong friendships. It is a great organisation with wonderful volunteers.
I also enjoy traveling and while a member of the Global leadership team at Cunningham Lindsey got great opportunities to travel and work in other countries.